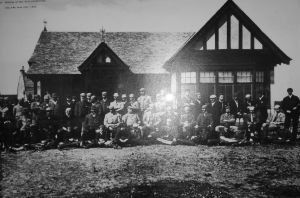 The half-timbered building which stands on East Links Road, bearing the name The Old Clubhouse, was built in 1890 to accommodate the members of the original Gullane Golf Club. At this date, the building was only the size of the present main bar, however, it was not long before the club outgrew this building and the extension (now the restaurant) was added.
In 1927, the membership had again outgrown the building and the club was forced to move to entirely new premises on West Links Road at the other end of the village.
Since then, the building has been used for many purposes until it settled in roughly it's present form in 1988.
In October 1989, Guy and Brenda Campanile took over at The Old Clubhouse. From there they embarked on a mission which was to involve three major refurbishments, including the installation of a new bar and gantry built of reclaimed American Pitch Pine. Though these refurbishments have involved major works, the ambience for which the Old Clubhouse has become famous has been retained at every stage.
Over the years, the 'Clubhouse' has gained a considerable reputation for good food and wine, and excellent Scottish hospitality, which stretches far beyond the bounds of East Lothian.
Behind the scenes, the kitchen team have created a vast and eclectic menu, which draws strongly on local produce, and is particularly notable for it's fresh fish, and fine steaks. We have tried to adopt a 'back to basics' menu policy, concentrating on good old fashioned pub food, with the occasional twist, cooked to order on the premises.
We have recently extended this to making our very own Artisan ice cream and sorbet, with flavours changing almost on a weekly basis!  If you're a regular visitor, ask to speak to Dominic to discuss your flavour suggestions and we'll do our best to accomodate you on your next visit.
Such is the quality of the food that The Old Clubhouse was proud to be awarded the 2006 East Lothian Food 'Best Pub Meal' Award, 2008/2009 runner up, and entries in the 'Good Pub Food Guide'.
Front of house, you will find an extensive wine list which has been compiled to offer the customer a sample of something a little different from what you will find in the average pub or restaurant, and rarely on the supermarket shelves, a range of cask conditioned ales which have earned The Old Clubhouse an entry in the Good Beer Guide for the past seven years, and a malt whisky selection which caters for every palate.
The bar team are assured to make your visit a memorable and enjoyable one.
Although there is a strong trade with golfers visiting the area for it's nine links courses, including the world famous Muirfield, you will find yourself in the company of our many local customers and tourists, who visit for the good food and beautiful location.